Presenting Overlook House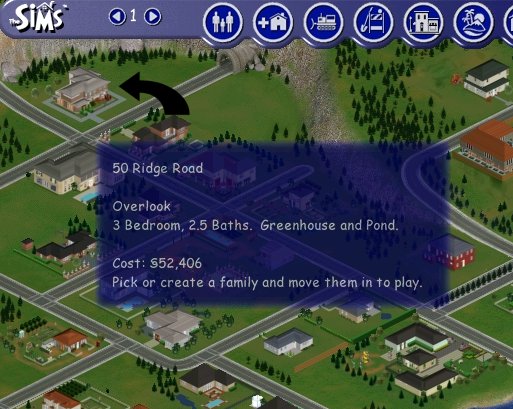 Jim and Marissa Clueless live at Overlook House, at 50 Ridge Rd. Jim has accepted a new job offer, which requires them to relocate.
Their 3 bedroom, 2 1/2 bath home is priced at $52,406. With comparable homes in the area selling for $55,000 to $70,000, their asking price is a bit low. But while other homes are snatched up within 2-3 weeks, the Clueless home has been sitting unsold for nearly 2 months.
With a greenhouse, pond, and great curb appeal, what will it take for Jim and Marissa to SELL THIS HOUSE?

We've invited our resident expert, realtor Cella Home, to see what she thinks. These are her comments.

From the outside, I'm liking that this house looks well cared for. But it's a bit impersonal. There aren't many lights outside, and the rock wall and plants look a bit stiff. Not very inviting!
Let's go inside. Maybe it gets better!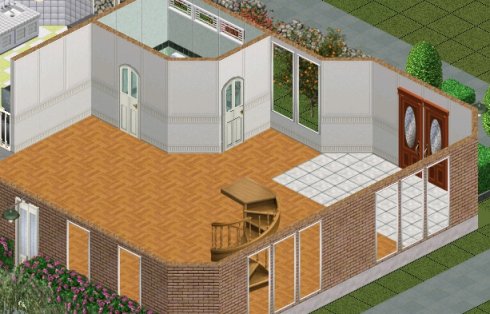 What a great room! Large, the windows really let you see the view, and the hardwood floors are wonderful!
But this tiled area, it has to go. It looks like there used to be a railing here, and there's some damage. And rust spots! A lot of potential buyers are going to walk right out.
Also, the room is empty! Empty rooms actually look smaller; there's no frame of reference, and people can't visualize how their furniture will look.
Let's look at the kitchen.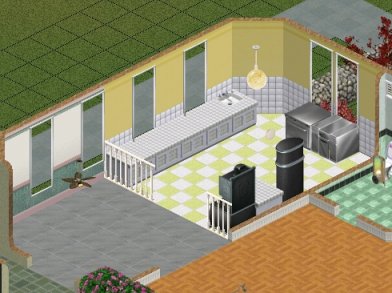 This kitchen makes me want to scream and run away! Fast!
You know, kitchens are SO important. The tile on these counters just looks so dated. The walls look dingy, and the whole effect is kind of depressing.
The dishwasher and trash compactor are new, and stainless, which is good. But what is with that refrigerator and stove??? They don't match at all.
The way the room flows into the dining area is good, but again, those railings are dated.
So far, it's not a big surprise that this house hasn't sold!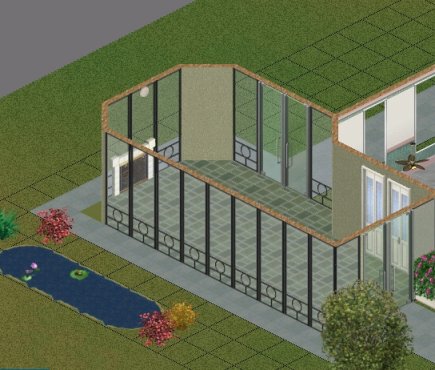 Since there's no family room, this "greenhouse" has to serve that function. Trouble is, it feels like a greenhouse.
It has a great fireplace, but even that doesn't make the room feel cozy. There's a wonderful view of the pond, but I can't imagine spending a lot of time in this room.
Let's check out the bedrooms next.
Here are the 3 bedrooms upstairs. The largest is obviously the master bedroom, and I can't help noticing that the windows don't really match the rest of the house. There are a lot of them, and while that gives the room a lot of light, it could also make furniture placement difficult.
There's a small balcony up here, very nice, but no access from the master bedroom.
As for the other bedrooms, well, look at those colors! That's a lot of blue, and a lot of purple. Those colors will definitely put some prospective buyers off.
This master bath is tiny, and the sink doesn't match.
For most homes, it's all about the details, and this is a big one! Kitchens and baths sell a house.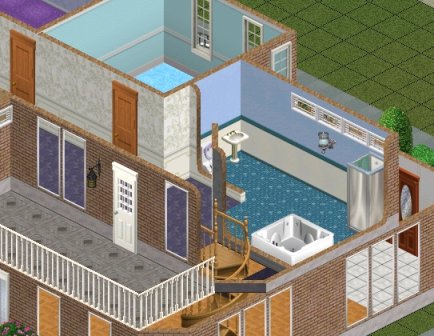 On the other hand, this bath is enormous! This is a guest bath? With this spa-like tub, it seems as if the homeowners will be wanting to run down the hall to use this bath. This is very odd.
Overall, it's a house with potential, but... I would find it very hard to sell.